Fishing Port Arnasas is one of my favorite things to do, and I know once you give it a try, it will be one of yours to! I have been going to Port Aransas since I was a toddler, and every time I go, the amount of fun I have just keeps on increasing!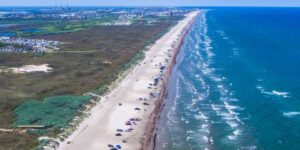 Fishing Port Aransas
The island of Port Aransas is one of my favorite fishing/vacation spots. There are just so many things to do! Beautiful beaches, great food, amazing fishing! The activities never end! I have caught Pin Fish, Mullet, Ribbon Fish, Mangrove Snapper, and even Black Tip Reef Sharks off the small island, and there are hundreds more species of fish that lurk in the bays of Port Arnsas (not to mention the whole ocean on the other side of the island)! I love fishing Port Aransas so much, and it is such an adventure each time we go, that I made a video of our latest Port Aransas trip:
There are just so many different ways/spots to fish when in Port Aransas. From wading the back lakes, to surf fishing for monsters. Catching Pin Fish under docks, to reeling in giant Sheep Head off piers. Port Arnsas is five stars when it comes to fishing, dining, shopping, beaches, and just general fun! You can lay back and relax, or go full on party mode! Port Aransas is the best of the best!