Fishing the Frio River
The Frio River is the clearest river in Texas! With CRYSTAL clear water and beautiful plant and aquatic life. Dozens of water falls and streams make the Frio one of my favorite places to fish! I made a video on my YouTube channel fishing at Camp Eagle on the Frio River while camping 3 days at a father son retreat called Being Sons hosted by Jay Heck!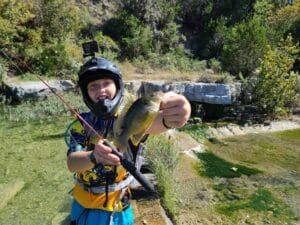 Fishing the Frio River
As I mentioned above, I was able to fish the Frio river while camping at Camp Eagle! The reason for my dad and I going to Camp Eagle was because of a father son retreat. It is called Being Sons hosted by an amazing man, Jay Heck. I would HIGHLY recommend you check out Jay's website along with Camp Eagle's, and I will have them all linked above!
While fishing the Frio River, my dad and I caught dozens of big Bluegill and nice Bass! IT WAS AWESOME!! The river is one of the most beautiful things I have ever seen, and the fishing was great! The water is spring-fed (one of the reasons it is so clear) which keeps the water cool year round, making it awesome to wade through while fishing, which is what we did, but even cooler for swimming in the Spring and Summer! Weather you are a fisherman, swimmer, scuba diver, kayak lover, or just like hanging out or exploring by the river, the Frio is the place for you! If you are reading this, you probably like rivers! So, I will have my page on the Guadalupe River, another incredible river in Texas, linked in this text!